NOTICE OF SURPLUS PROPERTY SALE 2023
1st Public meeting for wastewater facilty Bond 9 27 2021
***please click on link to review the announcement
Burn permit 2021  (this permit may be used in 2023)
Winchester Recreational fire rules 2020
RECREATIONAL FIRE GUIDELINES
The following requirements for portable outdoor fireplaces and recreational fires can be found in City Code 3-4-2 and the International Fire Code.
Portable outdoor fireplaces shall be used in accordance with the manufacturer's instructions and shall not be operated within 15 feet of a structure or combustible materials.
Recreational fires shall not be closer than 25 feet from a structure, fence, or other combustible materials.
® The pile size shall be no more than 3 feet in diameter and 2 feet in height.
Conditions which could cause a fire to spread outside the designated fire area shall be eliminated prior to ignition.
Recreational fires and portable outdoor fireplaces shall be constantly attended by an adult until the fire is completely extinguished.
Fire extinguishing equipment, such as a 4-A rated fire extinguisher, dirt, sand, or garden hose shall be available for immediate utilization.
It is still unlawful for any person to allow the production or continuation of excessive quantities of smoke which may be emitted by wood burning appliances, including fireplaces and recreational fires which disturbs, injures or endangers the comfort, repose, health, peace, safety and welfare of any person or persons of any area within the city.
Recreation fires adhering to these guidelines are allowed year-round within the City, unless temporarily closed by the Fire Chief during times of Very High Fire Danger or other times of emergency.  Recreation fire permits are required between June 20-October 20 to burn within the city.  These free permits are available at City Hall.
Covid Update  September 28, 2020  – City Hall will be locked.   If you need persona attention please call 208-924-5358 and make an appointment.   There is a drop box for utility payments at the bottom of the handicap ramp.   Thank you for your understanding.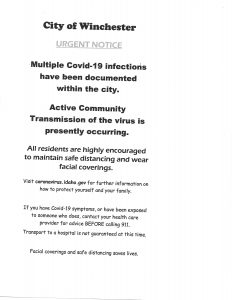 Idaho Rebounds Guidelines for opening Covid 19 part 1
Idaho Rebounds current stage and Stage 1 part 2